Duke University School of Medicine
---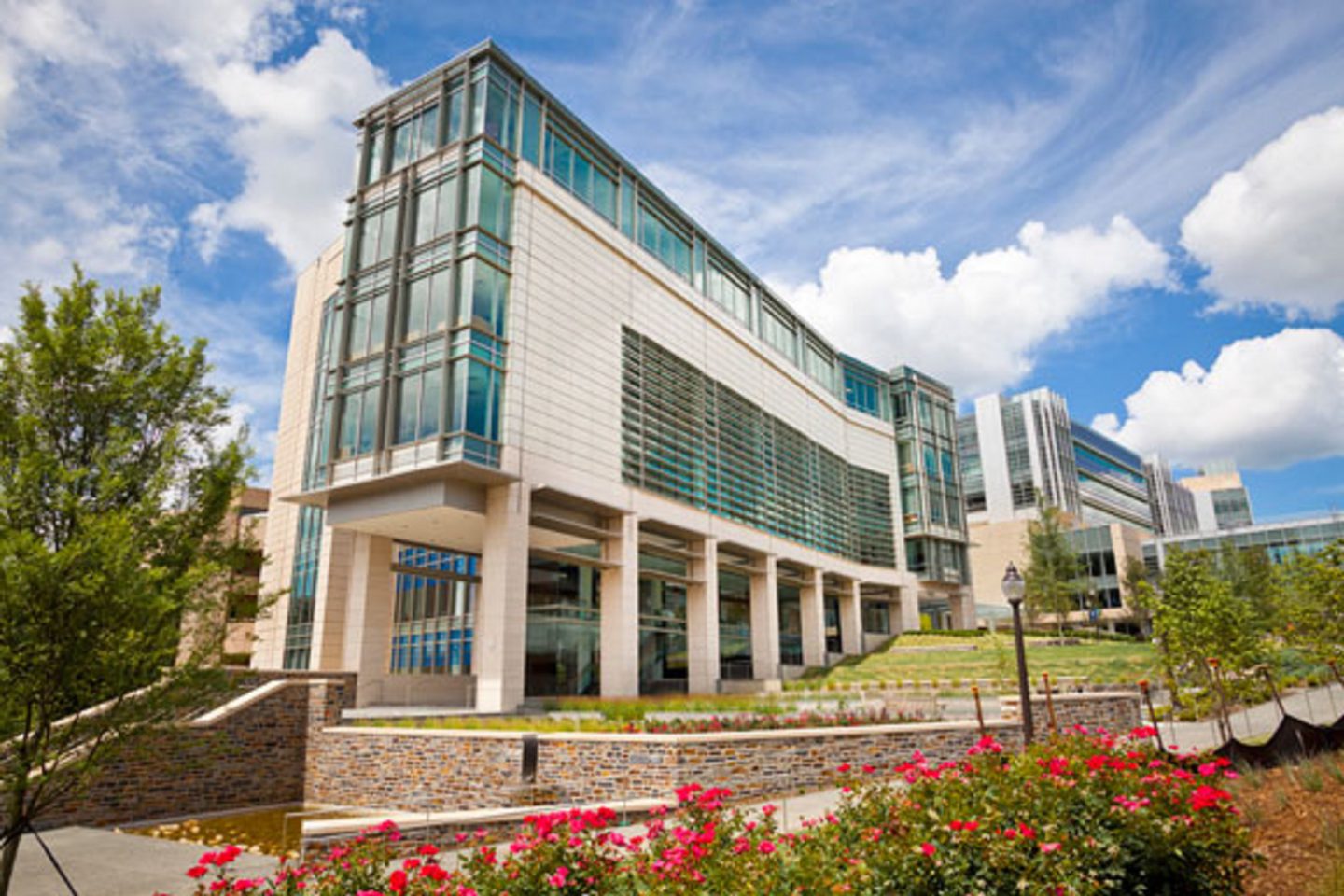 ---
About Duke University School of Medicine
Duke University School of Medicine was established in 1930 and is one of the nation's top medical schools. It is ranked seventh amongst medicine schools and takes pride in engaging the community of extraordinary learners, staff and clinicians and focuses on interdisciplinary collaboration. This leads to great fundamental scientific discoveries that help in improving health of the region and around the globe.
The school consists of more than 2200 faculty physicians and researchers. The 2017 entering class of the MD Program consisted of 7030 AMCAS Applications, of which 116 students were selected, and were representing 37 states. The Duke Health consists of three different Schools and is formed to provide responsive care and health services to the whole region.
The nation's first Physician Assistant Program was created at Duke in 1965 and is ranked number one in the country. It also has one of the oldest MD/PhD program in the country. Duke University School of Medicine has twenty-three clinical and basic science departments and numerous centers and institutes. The world's largest academic clinical research organization is also at Duke. The first Clinical and Translational Science Awards sites makes Duke University unique.
The core values of the school are to provide:
Excellence in education, research and patient care

Respect for inclusion of all

Commitment to solving real world problems

And making transforming discoveries.
The School wants to become a destination of choice for the best of the best faculty members and students and focuses on collaboration Duke's new educational system in Asia and around the globe. The strategic plan provides for the expansion of resources to provide security in the future. Therefore they will increase endowed professorships, make mentorship a priority and develop a culture of self-awareness and support. Side by side PhD education will be updated throughout to make sure the best level of study is conducted by the school.
---
MD Program of Duke University School of Medicine
Duke University School of Medicine provides a unique curriculum for MD students. This provides student to study the core basic sciences for one year instead of two, and devote their entire third year to a specific scholarly research project. The goal is to encourage students to pursue the range of careers to become practitioners, medical educators and pioneers in global health. Students are given hands-on experience of patients early on via the Duke Hospital wards where they practice physical exam skills and history-taking.
The features of this program include the development of a core medical curriculum that is rigorous and efficient. The integration of basic, clinical and psychosocial skills through the four years of medical education. An elective in the third year allows students to choose a scholarly interests across a range of scientific disciplines. Side by side mentorship of students by the faculty and implementation of new and improved methods of teaching.
---
Student Life at Duke University School of Medicine
Duke encourages students to join groups geared toward a variety of personal interests to explore their full potential. A few student groups are:
Duke Graduate and Professional Student Council: students serve as a liaison between graduate and professional students and provide insight to various student groups

Duke Women's Center: Includes men and women who are committed to gender equity and social change

Duke Center for Sexual and Gender Diversity: Providing a safe climate for students, faculty and alumni of all backgrounds to express themselves to the fullest.

Duke Religious Life: To create a comfortable environment for religious expression and student support.

Duke Center for Muslim Life: To enrich the lives of Muslim students through events and activities that cater to the spiritual and social needs of Muslim students at Duke.
These are just a number of groups, whereas numerous other are present to cater to students of different backgrounds and hobbies.
Duke students need to work hard throughout their life at the school, however to compensate for that, students are able to take advantage of the things the city has to offer from fine dining to theater to outdoor adventures. Duke students live all around Durham which is a safe city. It might look small, but it is known as the City of Medicine as it consists of over 300 medical companies, 6 major hospitals and is home to one of the largest research parks in the world.
The cost of living in Durham is very reasonable and it is home to numerous malls, theaters and restaurants. It was also featured in a magazine as the #1 Foodiest Small-town and in the New York Times Dining Section. Local bar trivia nights, The Durham Bull Athletic Park and Durham Performing Arts Theater provide students with a worthwhile experience at the school.
Housing for students is very close to the school, as the school itself has no housing facilities. However students choose to live very close to the campus in apartment complexes. Diversity is taken very seriously at Duke, as the student group show. The curriculum focuses on training students so they are compassionate toward patients that are different than them. Outdoor activities are the beach which is a two hour drive from Duke, whereas the mountain city is about three hours away.
---
Admission at Duke University School of Medicine
Duke University School of Medicine strives to attract and educate students who are compassionate towards medicine. The ever changing world of medicine means students should be willing to adapt to newer ways of how medicine works and expect modifications to the curriculum depending on the evolvement of medicine. MCAT is a necessity with experience in certain departments where you will be applying.
Those applying to the MD Programs should possess physical and mental skills necessary to successfully complete the school curriculum. This includes particular skills of observation, communication, behavioral, emotional and quantitative abilities.
Applications from AMCAS are received from June 1 till October 15 and may take 4-6 weeks to be processed. The school will then contact you to complete the supplemental application. Students are encouraged to expect at least four letters of recommendation.
The interview is conducted to assess the applicant's intellectual curiosity and commitment to the particular career of service. And for students to learn about Duke as their future home for a number of years. International students are required to have at least two years of university work or degree from an American-accredited university or college.
The fees for students varies depending on coursework, the degree, food and rent and so on. The budget shown by the school is around $90,000 for a single year. This is an estimation and will be adjusted according to changes. Financial aid and scholarship is available for both domestic and international students. This includes scholarships in terms of merit for students that excel academically, or those coming from a background that will enrich the diversity of the classes.
Need-based financial aids are given to students too, depending they fulfill a particular set of rules. A number of budgeting tips are provided by the university too.
---
Programs at Duke University School of Medicine
Health Education Programs:
The Doctor of Medicine (MD) Program

Medical Scientist Training Program (MD/PhD)

Doctor of Physical Therapy Program (DPT)

Physician Assistant Program (MHS)

Clinical Leadership Program (MHS)

Master of Biomedical Sciences
And many more!
PhD Programs:
Biochemistry Program

Biostatistics

Cell and Molecular Biology

Cell Biology Program

Cognitive Neuroscience

Medical Physics

Pathology Program

Pharmacology
And a number of other programs too.
---
Dr. Najeeb Lectures
As Duke's coursework is hectic, and curriculum is ever changing. The need for external help is a necessity. This is where Dr. Najeeb lectures can help you. Dr. Najeeb has been teaching medical sciences for over 26 years, and his lectures are trusted by 80% of Medical, Dentistry, Nursing and Pharmacy students. His videos contain hand drawn illustrations which provide clear explanations, and assure you understand each and every concept with clarity. His lectures have been, and are currently being used by students all around the world from England to the United States. And every student has given positive reviews to assure how successful Dr. Najeeb has been in providing detailed explanations of the most complicated of medicine academia.
Membership to his lectures will surely give you a helping hand in reaching knowledge of medical sciences toughest courses, at a very good cost.
---
Centers and Institutes
Duke University is proud of all the centers and institutes it has established throughout the years which contribute to the well-being of patients around the region and the globe.
The Brain Imaging and Analysis Center (BIAC) faculty members are leaders in imaging methodology development and analysis techniques.
Center for Human Disease Modeling represents hybrid activities that bridge genetics and develop biological assays.
Duke Cancer Institute (DCI) unites hundreds of cancer researchers and physicians which leads to teamwork amongst them to make mind blowing discoveries.
Numerous other institutes are related to Duke University in providing immense importance towards gaining more to the medicine world.
---
Student Participation
Duke encourages its student to contribute to the society. Duke itself offers entry level healthcare to the most sophisticated of specialty services. Participation of students is eligible depending on their capabilities. A number of different trials are available for students from Cancer research to Clinical Research and so on.
Duke is also focused on providing students with opportunities of research regardless of their academic stature. Therefore research opportunities are open to all students, including undergraduate students. To ensure that research is definitive, an IntegrityLine is open 24 hours to report any concerns unanimously which shows how serious Duke is to keep the foundation of medicine its top priority.
---
Contact
To contact Student Affairs for any further details:
Phone: (919) 668-1670
Fax: (919) 684-2593
Mailing Address: Duke University School of Medicine Office of Student Affairs
                               DUMC Box 3005, Durham NC 27710