Rosalind Franklin Medical School – Chicago Medical School
---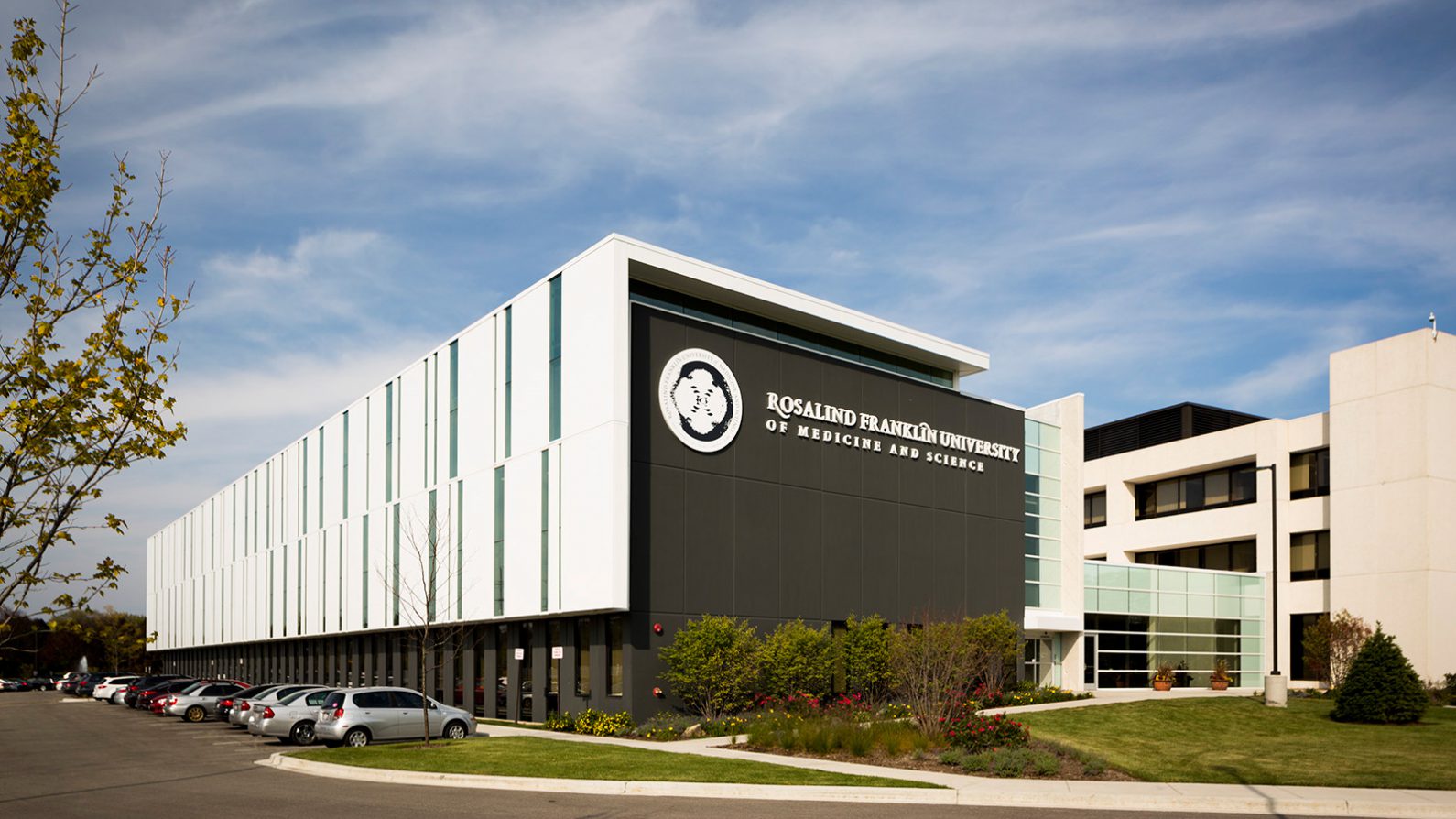 ---
History
The Chicago Medical College was established in 1912 and was known as the Chicago Hospital- College of Medicine which was a nonprofit school established for people who could not attend night school at that time. In the 1960's Dr. John Sheinin advocated that another university would be established which would train disciplines of all medical students together. In 1967, the University of Health Sciences/Chicago Medical School (UHS/CMS) was established. Then in 1968 the university established the School of Graduate and Postdoctoral Studies and then in 1970 the School of Related Health Sciences (now the College of Health Professions) was established. The university was first located in Chicago and in 1980 it moved to its current location; at 3333 Green Bay Road in North Chicago. Then in 1993 the university was renamed after its chairman and was known as Herman M. Finch University of Health Sciences. In 2004 the university was again renamed Rosalind Franklin University of Medicine and Science in honor of Dr. Rosalind Franklin, whose work with X-ray crystallography provided the data and scientific basis for a description of the structure of DNA, the single most important advance in modern biology.
---
About Rosalind Franklin Medical School
Rosalind Franklin University of Medicine and Science (RFU) is a private graduate school located in North Chicago, Illinois. It has five graduate schools; Rosalind Franklin Medical School – Chicago Medical School, College of Health Professions, College of Pharmacy, Dr. William M. Scholl College of Podiatric Medici ne, and School of Graduate and Postdoctoral Studies.
Mission

Their mission is to serve all humanity by interprofessional education of health and biomedical professionals, and the discovery of knowledge dedicated to improving wellness.

Rosalind Franklin Medical School Vision

To be the premier interprofessional health sciences university.

Core Values

Civility
Diversity
Excellence
Innovation
Integrity
Scholarship, and
Teamwork

Accreditation

The Chicago Medical College has full accreditation by the Liaison Committee on Medical Education (LCME) for its Allopathic Medicine (MD) and the College's Continuing Medical Education program is accredited by the Accreditation Council for Continuing Medical Education (ACCME).

Teaching Hospital Affiliations

Advocate Christ Hospital
Advocate Condell Medical Center
Advocate Good Shepherd Hospital
Advocate Illinois Masonic Hospital
Advocate Lutheran General Children's Hospital
Advocate Lutheran General Hospital
Alexian Brothers Medical Center
Captain James A. Lovell Federal Health Care Center
Centegra Memorial Medical Center
Elgin Mental Health Center
John H. Stroger, Jr. Hospital of Cook County
Little Company of Mary Hospital
Mount Sinai Medical Center
Mercy Hospital and Medical Center
Presence Saint Joseph Hospital
Presence St. Mary's Hospital
Rosalind Franklin Health System
Saint Anthony Hospital
---
Rosalind Franklin Medical School CAdmission Procedure
The applicant has to fill out the supplemental application and upon completion of the application the applicant has to pay $125.
The applicant has to take the Computer-Based Assessment for Sampling Personal Characteristics (CASPER) which is mandatory for the selection procedure.
The applicant also has to take an MCAT test, if the applicant submits multiple exams then the most recent one will be considered.
For the application to be complete the applicant has to submit letters of recommendation. The applicant has to choose one of the three choices for submitting the letter of recommendation:

Committee Letter: A letter authored by a pre-health committee or pre-health advisor and intended to represent your institution's evaluation of you. A Committee Letter may or may not include additional letters written in support of your application. This is sometimes called a Composite Letter.
Letter Packet: A packet or set of letters assembled and distributed by your institution, often by the institution's career center. A Letter Packet may include a cover sheet from your pre-health committee or advisor. However, unlike a Committee Letter, a Letter Packet does not include an evaluative letter from your pre-health committee or advisor.
Individual Letter: A letter written by, and representing, a single letter author. If you have already included an Individual Letter within either a Committee Letter or a Letter Packet, do not add a separate entry for that letter.
Rosalind Franklin Medical School Coursework

Required Prerequisite Courses:

One year Introductory Biology with accompanying laboratory (*or equivalent)
One year Physics with accompanying laboratory
Two-year Chemistry sequence that includes all three of these chemistry disciplines
General/Inorganic Chemistry with accompanying laboratory
Organic Chemistry with accompanying laboratory
Biochemistry (accompanying laboratory recommended but not required)
Two courses in Behavioral/Social Sciences – First-year Psychology and Sociology courses strongly suggested

Recommended Prerequisite Courses:

One course in Statistics
One course in Advanced Biology (200 level or above) – Molecular and Cell Biology, Physiology, Genetics, Microbiology, Neurobiology
English composition
Other coursework in the Humanities and Social Sciences

After the candidate has fulfilled all the requirements and submitted a complete application the board of admission will call the applicant for an interview after which the applicants will be shortlisted.
---
Rosalind Franklin Medical School Curriculum
YEAR 1 (64 QH)

HIPS 515A & B Foundations for Interprofessional Practice (2 QH)

MBCH 502 Clinical Molecular Cell Biology (3.5 QH)

MBCH 505A & B Medical Biochemistry (6 QH)

MBCH 508A & B Clinical Genetics (2 QH)

MCBA 500A, B & C Clinical Anatomy (10 QH)

MCBA 502A, B & C Histology (5 QH)

MCBA 504 Embryology (3 QH)

MCUR 502A, B & C Essentials of Clinical Reasoning (6 QH)

MMTD 509 Epidemiology (2 QH)

MMTD 510 Bioethics (2 QH)

MNSC 501 Medical Neuroscience (7.5 QH)

MOSA 500 Clinical Reflections I (1 QH)

MPHY 500A, B & C Medical Physiology (14 QH)

YEAR 2 (58 QH)

MCMP 600A, B & C Foundations of Medical Pharmacology (9.5 QH)

MCUR 602D, E & F Essentials of Clinical Reasoning (6 QH)

MCUR 606 Clinical Skills (3 QH)

MMIC 600A, B & C Microbiology & Immunology (13 QH)

MMTD 601 Patient Safety (2 QH)

MOSA 600 Clinical Reflections II (1 QH)

MPAT 600A, B & C General and Systemic Pathology (12.5 QH)

MPSY 601A & B Clinical Neuroscience (8 QH)

Sophomore Electives (3 QH)

Must take USMLE Step 1 to complete the second year of the curriculum.

YEAR 3 (73 QH)

MCUR 705 Clinical Skills Examination (0 QH)

MEMG 702 Emergency Medicine (6 QH)

MFPM 701 Family Medicine/Primary Care Clerkship (9 QH)

MMED 700 Medicine Clerkship (12 QH)

MNEU 700 Neurology Clerkship (6 QH)

MOBG 700 Obstetrics/Gynecology Clerkship (9 QH)

MOSA 700 Clinical Reflections III (1 QH)

MPED 700 Pediatrics Clerkship (9 QH)

MPSY 700 Psychiatry Clerkship (9 QH)

MSUR 700 Surgery Clerkship (12 QH)

YEAR 4 (55 QH)

MOSA 805 Clinical Reflections IV (1QH)

36 weeks total for senior requirements (Sub-internship and Electives):

4 weeks Internal Medicine, Family Medicine, Pediatrics or Emergency Medicine Sub-internship

32 weeks Electives

12 weeks minimum intramural CMS electives

20 weeks maximum extramural electives

8 weeks maximum non-clinical electives

12 weeks maximum specialty electives (except medicine or pediatrics)

Must pass USMLE Step 2 CK and CS to graduate.
---
Cost of Attendance
| | | | |
| --- | --- | --- | --- |
| Program | Annual Tuition | Tuition by Term | Billing by Term |
| Allopathic Medicine First Year | $59,363 | $19,787.67 | Fall, Winter, Spring |
| Allopathic Medicine Second Year | $59,363 | $19,787.67 | Fall, Winter, Spring |
| Allopathic Medicine Third Year | $59,363 | $14,840.75 | Summer, Fall, Winter, Spring |
| Allopathic Medicine Fourth Year | $59,363 | $14,840.75 | Summer, Fall, Winter, Spring |
| Allopathic Medicine Additional Years | $12,000 | $3,000 | Summer, Fall, Winter, Spring |
| Clinical Nutrition | $625/ credit hour | $625/ credit hour | Billed per class each term |
| Health Promotion and Wellness | $625/ credit hour | $625/ credit hour | Billed per class each term |
---
Scholarships
External Scholarships

American Medical Association
Available program: Allopathic Medicine
Korean American Scholarship Foundation
Association of American Indian Affairs (AAIA) Scholarships
Essex South District Medical Society Scholarship
Bi-Annual $1,000 BitIRA U Scholarship
APMWA Student Writing Competition
Live Bearded Scholarship
Photos.com Academic Scholarship
BeMo SortSmart Medical Student Scholarship
Many Bidets Scholarship
Slickdeals Saves U! Scholarship Program
com Scholarship Program
The Doctor Blog Scholarship
Healthcare Administration Scholarships Guide
Pennsylvania Medical Society Scholarships
Dubai Adventures Scholarships Program
eCellulitis Scholarships
Blake Rubin Scholarship
AAC's Behavioral Health Academic Scholarship Program
2018 BluePay STEM Scholarship
SPOLIN LAW CIVIL RIGHTS AND CRIMINAL LAW ESSAY COMPETITION & $1,000 SCHOLARSHIP
Space STEM Scholarships
Student Loan Planner Medical School Scholarship
Worgul, Sarna & Ness, Criminal Defense Attorneys, LLC Scholarship
National Cellular Directory Scholarship
American Foundation for Pharmaceutical Education
Army Health Professions Scholarship Program.
com
Daughters of the American Revolution
APhA Foundation Student Scholarship Program
American Psychological Association
Lambda Kappa Sigma
NCPA Foundation Scholarships
NMF Scholarships
Graduate Level Academic Scholarships
Distance Learning Degrees Academic Scholarships
Kosciuszko Foundation Scholarship Programs
Jewish Vocational Services
Armenian Students' Association Scholarship
The Abbott & Fenner Scholarships
Elliot C. Roberts Scholarship
Transamerica Retirement Solutions Leaders in Healthcare Scholarship
Cathy L. Brock Scholarship
Indian Health Services Health Professions Scholarship
Illinois Department of Veterans' Affairs
Women in Medicine – LGBTQ Leadership Scholarship
Helen H. Glaser Student Essay Awards
The Pisacano Scholars Leadership Program
CSBG Scholarship Program
MaleGroomings Advancement Scholarship
LadyLife Scholarship Program
American Association of Colleges of Pharmacy
American Podiatric Medical Association
American Medical Women's Association
Tylenol Future Care Scholarship
Paula and Daisy Soros Scholarship for New Americans
Chinese American Physicians Society
---
Rosalind Franklin Medical School Departments
Anesthesiology
Emergency Medicine
Family and Preventive Medicine
Internal Medicine
Neurology
Nutrition
Obstetrics & Gynecology
Pathology
Pediatrics
Physical Medicine & Rehabilitation
Psychiatry & Behavioral Sciences
Radiology
Surgery
Ophthalmology
Orthopedic Surgery
---
Degree Programs
Allopathic Medicine (MD)
Clinical Nutrition (MS)
Essentials of Health Promotion and Wellness (Certification)
Health Promotion and Wellness (MS)
Nutrition Education (MS)
Nutrition for Healthcare Professionals (Certification)
---
Rosalind Franklin Medical School Campus Life
RFU has a campus that is spread over 97 acres and 1,288,241 square feet of land with various facilities; both educational as well as recreational for its students, faculty, and staff members.
STUDENT ORGANIZATIONS

RFU has more than 80 student organizations that organize more than 1000 events every year and there are various choices for all students in regard to choosing a student organization to work for. The list of organizations are as follows:

Alpha Gamma Kappa
American Academy of Podiatric Sports Medicine
American Association of Women Podiatrists
American College of Foot and Ankle Orthopedic and Medicine
American College of Foot and Ankle Surgeons
American Medical Association
American Medical Women's Association
American Medical Student Association
Anesthesiology Interest Group
Asian Pacific American Student Association
American Podiatric Medical Students Association
American Pharmacists Association-ASP
American Public Health Association
American Red Cross: North Chicago Chapter
American Society of Podiatric Surgeons
Athletics Club
Anesthesiology Interest Group
Be The Match
Cardiology Interest Group
Chess Club
Dermatology Interest Group
Emergency Medicine Interest Group
Everybody Has a Shot
Family Medicine Interest Group
Film Club
Forensics Society
Garden Club
Geriatrics and Gerontology Interest Group
Global Health Interest Group
Graduate Association of Students in Psychology
Groove Dance Club
Hillel
Illinois Student Council of Health System Pharmacists
Institute for Podiatric Excellence and Development
Interprofessional Clinic Initiative
Internal Medicine Interest Group
Illinois Podiatric Medical Student Association
Industry Pharmacists Organization
International Pharmacy Student Federation
Kappa Psi
Lifestyle Medicine Interest Group
Medical Humanities Club
Medical Student for Choice
Military Careers Club
Muslim Students Association
New Life Volunteering Society
Ophthalmology Interest Group
Oncology Interest Group
Orthopedics Interest Group
Outreach for Health
OutPatients
Pacemakers
Pediatric Interest Group
Phi Delta Chi Pharmacy Fraternity
Phi Delta Epsilon (PhiDE)
Phi Lambda Sigma
Physical Medicine & Rehabilitation Interest Group
Pi Delta Honor Society
Project Dreams
Radiology Interest Group
Rho Chi
Rosalind Franklin Christian Fellowship
Running Club
Rosalind Franklin University International Students
Rural Health Interest Group
Salud Ofrecida A Latinos
Save a Leg, Save a Life
Sole Fit
South Asian Medical Association
Step Up
Student Interest Group in Neurology
Students Interested in Psychiatry
Student National Medical Association
Student National Pharmaceutical Association
Student National Podiatric Medical Association
Student Physicians for Social Responsibility
Students for Organ Donation
Surgery Interest Group
The Best Medicine IMprov
Wisconsin Student Pharmacists Association
Women in Scientific Discovery or Medicine
Women's Health Interest Group

Housing

The University provides on-campus as well as off-campus housing facilities to its students. One of the best ways to fully experience university life is to live on the campus which also makes it more convenient as classes are nearby and one can study with a friend as most of them live nearby. The university has 3 buildings for students housing which contains around 180 apartments that accommodate more than 240 residents. The housing has Wi-Fi which is free of cost, kitchen appliances, individually controlled heat and A/C, Clean and quiet study lounges for both individuals and small groups, full capacity laundry units on each floor, and individual storage units.

There are two types of apartments:

One-Bedroom Apartment (Single Student)

One student requesting a private, one-bedroom apartment

Two Bedroom, Shared Apartment (Single Student)

A two student shared apartment. Each student has their own bedroom & bathroom.

If requesting a particular roommate, both students must request each other on the Student Housing application. Student Housing doesn't guarantee that preferences will be honored, but will try to accommodate when possible.

To get housing on-campus every student has to fill an application and the Student Housing will maintain a list of the students who have applied and vacancies will be given on the basis of first come.

The housing rates are as follows:

3 quarter (10 Month)

Contract Period 1

Aug 1- May 31

Billing Term

1 Bedroom

2 Bedroom

Summer

Fall

$4,610

$3,216

Winter

$4,610

$3,216

Spring

$4,610

$3,216

Total contract:

$13,830

$9,650

4 quarter (12 Month)

Contract Period 2

Enrolled in classes during summer quarter

June 1- May 31 or start of

summer quarter – end of spring quarter

Billing Term

1 Bedroom

2 Bedroom

Summer

$4,149

$2,895

Fall

$4,149

$2,895

Winter

$4,149

$2,895

Spring

$4,149

$2,895

Total contract:

$16,596

$11,580

4 quarter (12 Month)

Contract Period 3

Not enrolled in classes during summer quarter

June 1- May 31

Billing Term

1 Bedroom

2 Bedroom

Summer

$2,766

$1,930

Fall

$4,610

$3,216

Winter

$4,610

$3,216

Spring

$4,610

$3,216

Total contract:

$16,596

$11,580

Included programs:

2nd Year Medical Student

2nd Year Pharmacy Student

Daily Rate

1 Bedroom

2 Bedroom

$45.47

$31.73
Woodland Apartments

These are located off-campus and the lease usually begins in May or August. The apartments have free Wi-Fi at all times, a study lounge, 24 Hour Fitness Center with Yoga Studio, heated pool and Sun Deck with cabanas and hammocks, laundry facilities, laundry facilities, and picnic areas.

The rates for the different types of apartments are as follows:
Spruce

1 Bedroom – 1 Bath (610 SF)

$1200

Pine

1 Bedroom – 1 Bath with Den (894 SF)

$1375

Oak

1 Bedroom – 1 Bath with Study (923 SF)

$1375 Entire Apartment

Maple

2 Bedroom – 1 Bath (1,022 SF)

$1480 Entire Apartment

Room A – $765 and Room B – $715

Birch

2 Bedroom – 2 Bath Dual Entry (848 SF)

$1600 Entire Apartment

Room A – $800 and Room B – $800

Ash

2 Bedroom – 1 Bath (1,010 SF)

$1480 Entire Apartment

Room A – $765 and Room B – $715

Sycamore

2 Bedroom – 2 Bath Deluxe (1,104 SF)

$1600 Entire Apartment + $40 Washer and Dryer Fee

Room A – $800 + $20 Washer and Dryer Fee and Room B – $800 + $20 Washer and Dryer Fee

Apart from Woodland Apartments, there are other off-campus housing facilities available as well, for further detail you can visit the university official website.

Fitness Center

RFU's fitness center is located in the Rothstein Warden Centennial Learning Center Room L.043 and is open 24 hours a day, however, on Mondays, Wednesdays, and Fridays it is closed from 10:30 p.m. – 11:00 p.m. for cleaning purposes.

The fitness center consists of Treadmills, Elliptical Trainers, Recumbent Bikes, Spin Bikes, Stair Stepper, Pull up station, Free Weights, Circuit Weight Equipment, Cross-training Weight Machines, Punching Bag, and Floor Mats.

Fitness Classes

The office of student life provides weekly fitness classes that are free of cost to all students of RFUMS. The fitness classes provided are:

Abs and Ends
Cardio Blast
Cardio Dance (Hip Hop)
Cardio Step
Circuit
Mindfulness Meditation
Outdoor Boot Camp
Pilates
Rumble
WERQ
Stretch and Tone
TRX
Yoga/Power Yoga
Zumba

Intramural Sports

The office of student life provides intramural sports during different semesters, which can be a pick-up session or a competitive league. The intramural sports offered are:

Flag Football
Basketball
Volleyball
Sand Volleyball
Disc Golf
Soccer
Indoor Soccer
Tennis
Table Tennis
Ultimate Frisbee

Spaces to relax

The university has made different spots for the students where they can hang out or just relax. Some of these spots are:

Nap Nook
Reflection Room
Game Room
TV Lounge
Music Room

Boxer Library

The Boxer library is located in the Basic Sciences Building on the lower and first floors. The library has various books, journals as well as an electronic collection.

Hours

Building Hours

Open 24 hours a day, 7 days a week

Staff Hours

Monday – Friday: 8:00 a.m. – 10:00 p.m.

Saturday – Sunday: 12:00 p.m. – 5:00 p.m.
---
After getting admitted into Rosalind Franklin Medical School – chicago medical school
Getting into a good medical college is everyone's dream and let's be honest, it is one of the toughest things to do and getting into an institute like RFUMS – CMS is a big achievement. CMS is among one of the top medical colleges of Bangalore, and it is known for providing the best medical knowledge to its students which helps them develop and become future doctors of the world. If you get into RFUMS – CMS, you're definitely one of those few intelligent and hardworking people who deserved to be here and be the best doctors in the world with the help of great faculty members at CMC.
Anyway, Congratulations! You have cleared the first and the toughest step of this journey. Now, what next? Now, comes the next step and a bit tough one comprising of a lot of challenges for you but don't worry, if you are able to qualify for the first step, it'll be easy for you to clear the next step too. It will require a bit of hard work and your focus to overcome these challenges. Here are the few tips mentioned below in order to help you:
MANAGING TIME:

First things first, MANAGING TIME! Time is the key to your success and of course, failure. If you have a hold on your time, you're going to be successful no matter what. I'm not specifically talking about a medical college but if you talk about any university, managing time is really important in order to survive there. If you're going to get into all this stuff of managing your time from the very start, medical college will be comparatively easy for you because you're already a champ but the results are going to be completely opposite if you're not going to manage your times.

Now, the question is how to manage time? Firstly, take notes of everything from day one. Yes, it helps a lot. Take notes in the classes, how is everything going to work, the processes and procedures, etc. Once you know how things work at your campus and make a schedule for them assigning most of the time to the most important tasks and try to complete each task within the timeframe provided. This will help you be on track and make things easier for you.

As you have taken notes and assigned time to each task, it was more of a generalized schedule. Time to be a little more specific. All the homework, assignments, test or quizzes, everything should be noted by you separately in a daily to-do-list. Every task should be noted in that with the due date and several reminders should be set in order to avoid delays. Procrastination should be strictly avoided in medical college because completing your tasks as soon as possible will help you be on track. Otherwise, you'll be in a big mess because you won't be able to cope up with all the daily stuff. Regularly following that to-do-list will help you complete all the tasks on time and meet your deadlines.

SELF-STUDY:

Is it necessary that your teacher's teaching method will match your learning method? Well, it's not. This is the main reason, a lot of the students who were pretty good in their studies before getting into a medical college becomes frustrated and unable to continue. They had this image in their mind that they have always been pretty good, then why aren't they good enough over here too? Well, don't worry and don't stress about this. It happens with everyone but do remember that you can't control everything. One can only try to do those things which are in his control rather than stressing over those things which were never in his control.

Whenever you don't understand anything in the class, ask a friend or any other classmate to help you out with it. Try to make that thing clear to you as soon as possible and not leaving it for later because you'll end up missing something and you won't understand another thing because you missed that thing in the first place and BOOM, you don't know anything know. Try to get things clear when they're fresh in your mind, it'll help you understand really faster! Try to indulge yourself in self-study but if it doesn't work for you, go for the group study. You can benefit a lot from group study, do try to seek help and help others too if needed. Again, allocating time to self-study and group study is the key thing.

NAJEEB LECTURES:

For instance, you end up in a situation where nothing is working for you or you aren't benefiting from any of the things mentioned above or you don't feel like putting effort into all that stuff, then you can always go to Dr. Najeeb's Lectures for getting help. As I mentioned before, what if your teacher's learning method doesn't match your learning method? Well, I can guarantee you that Dr. Najeeb's lectures will definitely match your learning method! If you don't feel like getting help from other people and you want to rely on self-study, then these video lectures are going to help you a lot. Dr. Najeeb's Lectures are the world's most popular medical Lectures, covering all the topics of Gross Anatomy, Neuro-anatomy, Embryology, Histology, Physiology, Biochemistry, Genetics, Pharmacology, Microbiology, Immunology, and Pathology.

These lectures almost cover all the topics included in the current medical curriculum of most of the medical colleges and are a great source to understand every topic you're being taught in your class. These lectures don't contain that bookish knowledge due to which you don't understand things in the class, whereas it is the visual representation of that knowledge which will help you understand things better. The hand-drawn illustrations included in these lectures will make you grasp every concept really quickly. Furthermore, one can get lifetime access to these lectures and even download the app to avail them anytime, anywhere.

SELF-CARE:

The only thing you have to do for the rest of your time in a medical college is to study? NO! Don't overburden yourself. Despite all the rigorous studying, a very tight schedule, frequent exams, and tests, it is very important for you to take some time out for SELF-CARE. Try to indulge yourself in several extra-curricular activities happening in the college, they'll help you to have a break from your studies. Just try to complete everything on time, so that you can enjoy everything else too to keep yourself relax!

Reward yourself frequently whenever you achieve something, for instance, you got the highest marks in a class test. You need to reward yourself for your continuous hardships. Find a hobby which will help you freshen your mind so that you can work and learn better.

PICK YOUR FRIENDS WISELY:

This step is very important and should be kept in mind from day one. Be very careful and very picky about people. No, it doesn't mean that don't talk to anyone but chose your friends wisely. Help every person who asks for help from you and avoid getting into any conflict with anyone. If you end up getting into one, try to resolve that as soon as possible, so that you don't get distracted from your studies because of that.

Carefully observe the people around you and make friends very carefully because friends can help you spend the rest of your time in the college nicely or they'll ruin it. Making more allies than enemies is a good option, help people a lot because they'll help you out too when you'll need it. Try to be a little sharp-minded and keep yourself from getting exploited. Help out others, this way you can make more allies than enemies and they could end up helping you in your time of need.

In the end, we would like to assure you that there are always ups and downs in life. Don't lose hope, keep our tips in mind and Good luck!