UF college of Medicine
---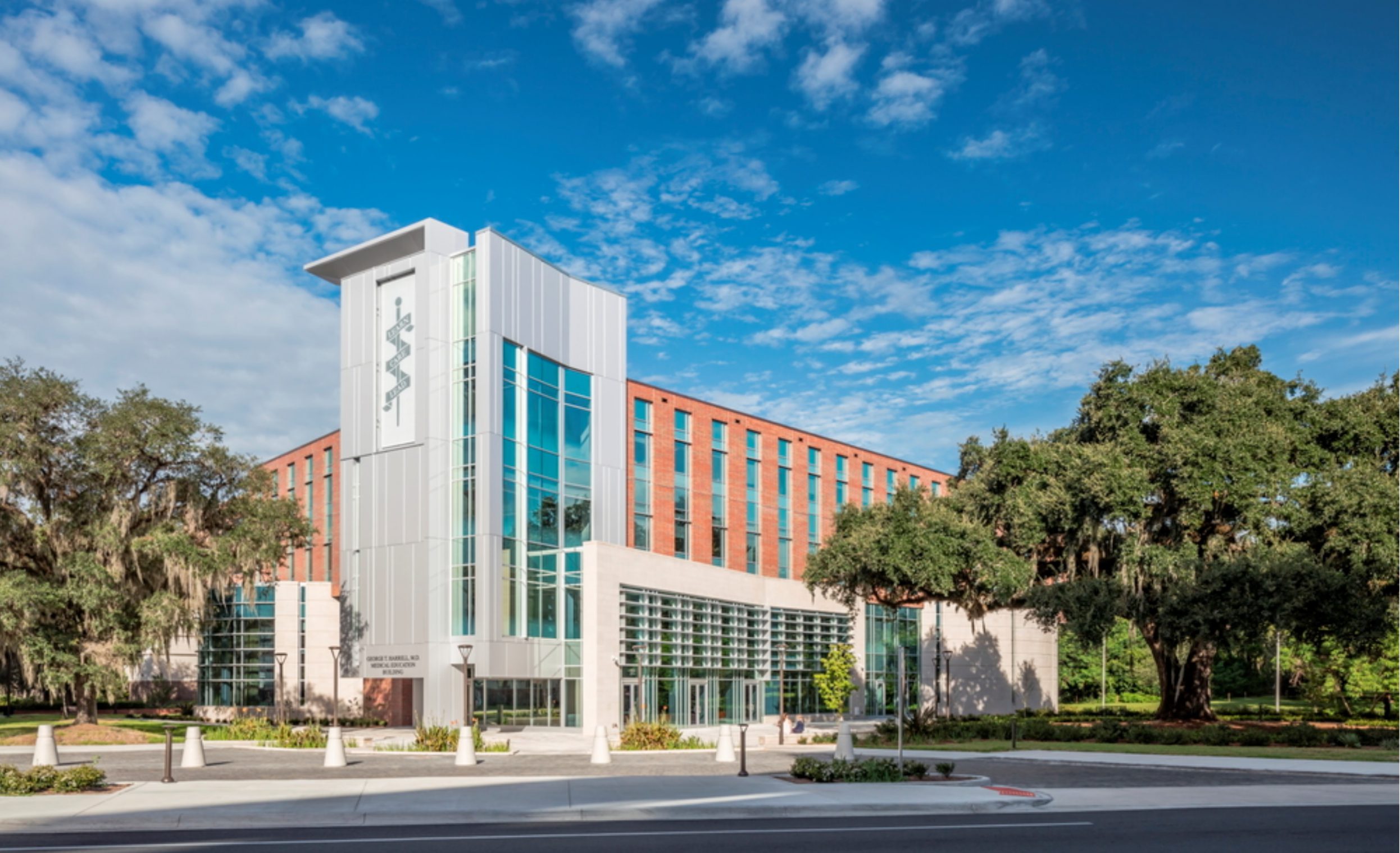 ---
About UF medical school:
The college was founded in 1956 to increase Florida's supply of highly qualified physicians, provide advanced health care services to the residents of Florida and foster discovery in health research. The college's Gainesville campus is comprised of 28 clinical and basic science departments and the UF School of Physician Assistant Studies and is staffed by more than 1,400 faculty members. The Jacksonville campus, located 75 miles to the northeast, is home to more than 450 physicians and scientists delivering medical care in an urban setting, performing research and educating medical students and residents.
Since graduating its first medical students in 1960, the College has graduated more than 5,000 physicians. The college also offers other graduate degree programs, including:
Medical science
Biomedical engineering
Physician assistant studies
Graduate Program in Biomedical Sciences

Rankings & Facts:

UF College of Medicine is recognized around the globe because of its top-rated medical education and clinical training. College has been ranked as number one on many forums. Few of them are enlisted below:

UF College of Medicine is the largest of the 6 colleges at the University of Florida Academic Health Center.
It is ranked #19 among public medical schools, ranked by U.S. News & World Report.
It has a total budget of $349M in total research and sponsored program funding, with researchers exploring topics across 9 research centers and institutes.
Around 100+ UF Health Physicians primary care and specialty medical practices are located throughout North Central Florida and Jacksonville.
The University's teaching hospital, Shands at the University of Florida, is nationally ranked in 7 specialties.

UF medical school Mission and Objective:

The UF College of Medicine is dedicated to achieve the following goals by providing high-quality medical education to its students:

To provide comprehensive, patient-centered, culturally sensitive, compassionate and innovative health care of the highest quality to all.
To promote sustained, robust professional and personal growth, productivity, accountability, integrity, and synergistic collaboration, and synergy of faculty, students, and staff.
To develop and utilize innovative models of interdisciplinary health care delivery that optimize safety, service, outcomes and resource use.
To educate and inspire the next generation of leaders in health care, biomedical sciences, health services research and academic medicine to seek, provide and sustain unparalleled achievements in service, teaching and research.

Values:

UF College of Medicine has a strong commitment to the values outlined below that guide the priorities, goals, and actions of the mission that are listed above.

Diversity:

The School will ensure diversity in its faculty, trainees, subject matter experts as well as the courses which are offered to students.

Compassion:

University believes in promoting an environment where they can demonstrate compassion and sensitivity in the care of patients and respect for their privacy and dignity.

Leadership:

The School will assume a leadership role to teach its students to possess a commitment to promote the health and well-being of the communities served.

History of UF College of Medicine:

The University of Florida, College of Medicine is located in Florida, United States. It was established in 1956 and founded by Dr. George T. Harrell. Dr. Harrell who became the first person to found two medical schools; UF College of Medicine and College of Medicine at Pennsylvania State University. The college received its largest funding by Jerry and Judy Davis in March 2009, which was around $20M to support teaching, research and programs in cancer, with special emphasis on research in lymphoma, breast cancer, bone marrow, and gastrointestinal cancer.

Location and Contact Details:

Location: 1600 SW Archer Rd M509, Gainesville, FL 32610, United States

Contact: (352) 273-7500 (Administrative Office)

Centers and Institutes:

Some of the centers and institutes that tap talent from the health sciences and many other disciplines include:

Evelyn F. and William L. McKnight Brain Institute
Norman Fixel Institute for Neurological Diseases at UF Health
UF Clinical and Translational Science Institute
UF Diabetes Institute
UF Emerging Pathogens Institute
UF Genetics Institute
UF Health Cancer Center
UF Institute for Child Health Policy
UF Institute on Aging
UF Research and Academic Center at Lake Nona
---
Departments and Schools:
College of Medicine has two respective schools; Gainesville and Jacksonville. Both of the schools have certain departments which are enlisted below:
Gainesville:

Aging and Geriatric Research
Anatomy and Cell Biology
Anesthesiology
Biochemistry and Molecular Biology
Biostatistics
Community Health and Family Medicine
Dermatology
Emergency Medicine
Epidemiology
Health Outcomes and Biomedical Informatics
Medicine
Molecular Genetics and Microbiology
Neurology
Neuroscience
Neurosurgery
Obstetrics and Gynecology
Ophthalmology
Orthopedics and Rehabilitation
Otolaryngology
Pathology, Immunology, and Laboratory Medicine
Pediatrics
Pharmacology and Therapeutics
Physiology and Functional Genomics
Psychiatry
Radiation Oncology
Radiology
Surgery
Urology

Jacksonville:

Anesthesiology – Jacksonville
Community Health & Family Medicine – Jacksonville
Emergency Medicine – Jacksonville
Medicine – Jacksonville
Neurology – Jacksonville
Neurosurgery – Jacksonville
Obstetrics and Gynecology – Jacksonville
Ophthalmology – Jacksonville
Oral & Maxillofacial Surgery – Jacksonville
Orthopedics and Rehabilitation – Jacksonville
Pathology and Laboratory Medicine – Jacksonville
Pediatrics – Jacksonville
Psychiatry – Jacksonville
Radiation Oncology – Jacksonville
Radiology – Jacksonville
Surgery – Jacksonville
Urology – Jacksonville
---
Committees and Working Groups:
Some committees and working groups which play an important role in UF College of Medicine are:
UF Deans, Directors & Department Chair Memos
Continuing Medical Education Advisory Committee
Curriculum Committee
Faculty Council
Executive Committee Minutes
---
General Admission Requirements:
Regular Admissions is the standard process by which students enter the College of Medicine. Students apply initially through the American Medical College Application Service (AMCAS). Upon receiving an MCAT score and verified AMCAS, College will invite applicants to submit a secondary application. Applications are reviewed by the Assistant Dean for Admissions, faculty committee members and Office of Admissions staff, and competitive applicants are invited to interview. Each year, the College of Medicine accepts approximately 120 students through Regular Admissions.
Eligible applicants must be United States citizens or United States permanent residents (in possession of the USCIS assigned 'Green Card').
Applicants who have previously matriculated to a medical program are ineligible to apply to UF College of Medicine unless they meet the requirements to apply through the Transfer/Advanced Standing Admissions Policy.
Applicants must receive a bachelor's degree from a US post-secondary college or university accredited by one of the regional accrediting organizations recognized by the Council for Higher Education Accreditation (CHEA) before matriculation to the University of Florida, College of Medicine. A graduate or professional degree earned in the US at a regionally accredited post-secondary university may be substituted for the bachelor's degree.
The following minimum science admissions requirements must be completed at a regionally-accredited, degree-granting United States post-secondary institution with no grade less than a "C" (not counting courses that are later repeated).
General Biology – 2 semesters, with labs (8 credit hours)
General Chemistry – 2 semesters, with labs (8 credit hours)
Organic Chemistry – 1 semester, with lab (4-5 credit hours)
Biochemistry – 1-semester survey course, upper-division, content, and level appropriate to a biology or chemistry curriculum (3 or 4 credit hours)
Physics – 2 semesters, with labs (8 credit hours)

Education:

The college is known for its programs in competency-based education, performance-based teaching, community and urban clinical training, interactive learning, and the clinical presentation model, which is a UF-developed list of approximately 120 ways patients can present illnesses to physicians.

D.- Ph.D. Training Program:

3-4 years are required to complete a Ph.D. program. Thus, M.D. Ph.D. students typically require 7-8 years to obtain their combined degree. College of Medicine offers the following programs in this category:

Anthropology (College of Liberal Arts & Sciences)
Biochemistry & Molecular Biology
Biomedical Engineering (College of Engineering)
Biostatics (College of Medicine / Public Health & Health Professions)
Cancer Biology (College of Medicine/Dentistry)
Clinical Health Psychology (College of Public Health & Health Professions)
Epidemiology (College of Medicine / Public Health & Health Professions)
Genetics (College of Medicine/Dentistry)
Genetics & Genomics (College of Medicine / Genetics Institute)
Health Outcomes & Biomedical Informatics (College of Medicine)
Health Outcomes & Implementation Science (College of Medicine)
Immunology & Microbiology (College of Medicine/Dentistry)
Molecular Cell Biology (College of Medicine/Dentistry)
Neuroscience (College of Medicine/Dentistry)
Pharmacology & Therapeutics (College of Medicine/Dentistry)
Physiology & Functional Genomics (College of Medicine/Dentistry)
Rehabilitation Sciences (College of Public Health & Health Professions)

Admission Requirements for M.D. & Ph.D. Training Program:

The following documents constitute your application for acceptance into our program. Required documentation:

MD-PhD Motivation Statement;
Significant Research Experience Statement;
Three Letters of Recommendation; and
MHP (Medical Honors Program) students must take either the GRE or MCAT standardized test and have test scores submitted to the graduate school's Admissions Office.

Dual Degree Programs:

Several joint degree programs are offered with other colleges to allow qualified students to combine their medical science background with other professional or graduate work to broaden academic knowledge and earn two degrees in a reduced amount of time. Following are some of Dual Degree Programs offered by the College:

MD-PhD
MD-JD
MD/MBA/MSM
MD-MPH Program
Discovery Pathways Program – Medical Student Research Program

Graduate (Ph.D., M.S)

Several Graduate Programs are offered by the UF College of Medicine which are enlisted below:

Master Programs: University offers 11 programs in this category:
Anatomical Sciences Education
Biochemistry
Biomedical Informatics
Forensic Medicine Education Program
Gerontology
Health Outcomes & Policy
Medical Physics
Medical Sciences
Molecular Cell Biology
Pharmacology
Translational Biotechnology

D. Programs:

These 6 Ph.D. programs exemplify the collaborative infrastructure of the UF Health Science Center with innovative research opportunities and excellent faculty:
Anatomical Sciences Education Ph.D. Program
Biomedical Informatics
Graduate Program in Biomedical Sciences
Health Outcomes & Policy
D. – Ph.D. Training Program
Medical Physics

Medical Honors Program:

The MHP is the University of Florida's 7-year BS/MD program. Current college students who are at a state-accredited university will apply in their second year of undergraduate studies.

Admission Requirements:

By the end of the second year (preferably spring) of undergraduate work, as a full-time student, at a 4-year regionally accredited science degree-granting institution, applicants must have completed the following courses:

Biology with lab – 8 semester hours (12 quarter hours)
General Chemistry with lab – 8 semester hours (12 quarter hours)
Organic Chemistry with lab – 8 semester hours (12 quarter hours)
Additional 3000 (or higher) level science course (MCB 3023/L, PCB 3023, AGR 3303, etc.).
Applicants should have taken at least 7 to 9 credit hours of science (math also counts) per fall and spring semesters.
Eligible applicants must have a GPA of at least 3.7 in all College-level Biology, Chemistry, Physics and Math classes (not overall GPA).
This program is open to non-Florida residents. Applicants must be US Citizens or Permanent Residents.
---
Certificates:
Certificates offer flexibility along your education and training trajectory. Several of the following programs are offered entirely online for the benefit of working professionals.
Addiction and Recovery
Anatomical Sciences Education
Biomedical Informatics
Biomedical Scientists as Educators Certificate
Biomedical Neuroscience
Cancer: Biology, Epidemiology, and Outcomes UF Health Cancer Center
Clinical and Translational Science
Gerontology
Health Outcomes & Policy
Implementation Science
Medical Anatomy and Physiology
Medical Human Anatomy
Medical Pharmacology
Medical Physiology – Cardiovascular/Renal Physiology
Medical Physiology
Psychiatric Epidemiology
Translational Health Science
---
Meals and Dining Options:
Located on the first floor, the cafeteria features a complete breakfast, lunch and dinner menu that includes hot meals, soups, On the Go, and desserts. Nutritional information about the menu is available. In addition to the Classic meal line, there is an exhibition food station where food is prepared at the station for guests. All food is available for takeout.
Cafeteria Classic:
Monday – Friday: Breakfast – 6:00 a.m. – 10:00 a.m., Lunch/Dinner – 11:00 a.m. – 8:00 p.m. Saturday, Sunday, and Holidays: Breakfast – 7:00 a.m. – 10:00 a.m., Lunch – 11:30 a.m. – 2:00 p.m.
Exhibition:
Monday – Friday: Breakfast – 6:00 a.m. – 10:00 a.m., Lunch – 11:00 a.m. – 2:00 p.m.
Closed Saturday, Sunday, and Holidays
In addition to the cafeteria area, there are several specialty food stations to the left of the cafeteria entrance:
Sushi with Gusto:
Monday – Friday: 11:00 a.m. -— 8:00 p.m.
Closed Saturday, Sunday, and Holidays
Verde Fresh Latin Kitchen:
Monday – Friday: Lunch 11:00 a.m. – 8:00 p.m.
Closed Saturday, Sunday, and Holidays
Italian Kitchen:
Monday – Friday: Lunch 11:00 a.m. – 8:00 p.m.
Closed Saturday, Sunday, and Holidays
---
UF medical school Facilities:
Student Recreation & Fitness Center:

The Student Recreation & Fitness Center is centrally located on the University of Florida campus. The Student Recreation & Fitness Center (SRFC) is more than 37,000 sq. ft. and was the first facility dedicated to recreation on the University of Florida campus in the Fall of 1991. Southwest Recreation Center and Student Fitness & Recreation Center are staffed with trained Fitness Associates and Fitness Supervisors to ensure the safety of participants and assist in basic exercise selection or performing exercise that may need to be spotted.

Features:

Multipurpose Gymnasium for Basketball, Volleyball and Martial Arts
6,300 sq. ft. Strength & Conditioning Room
Three Activity Rooms and One Cycle Studio
Functional Training Room
Five Racquetball Courts
Two Squash Courts
Includes state-of-the-art cardio equipment with personal viewing screens

Location:

244 Fletcher Dr, Gainesville, FL 32603. The Student Recreation and Fitness Center is building number 265. Located on Fletcher Drive, beside the Student Health Care Center.

UF medical school Housing Facility:

The college provides several Housing facilities to its students. Enjoy convenience, life-long friendships, and an environment that fosters educational and personal growth living in the heart of the Gator Nation. Make sure to apply as soon as possible (before you've been accepted to UF) to have the best chance of getting your preferred spot. The college provides the following Housing Facilities:

Undergraduate Housing:

College believes that by living in one of UF's focused residential communities, students will be able to participate in programs, speakers, and activities designed to support their academic interests.

Graduate & Family Housing:

UF supports graduate students and students with families by providing on-campus living communities and resources. Our 6 housing villages give students space and amenities they need to provide for themselves and be successful.

Off-Campus Housing:

Off-Campus Life provides resources and services for students living off-campus. Including an online search service for housing off-campus, appointments with OCL staff, and monthly events to help foster civic engagement and to develop great Gator neighbors in Gainesville and throughout the Gator Nation.

Health & Safety:

The college has several departments working together across campus to ensure student's safety, so they can work hard and rest easy knowing they're in great hands. Enlisted below are some of the programs and services that comprise the college's commitment to its students on campus and beyond.

Counselling & Wellness Center: It offers high-quality counseling and psychiatric care as well as developmental and preventative services to UF students. On top of that, the UF Counseling and Wellness Center is available to listen and help 24/7.
Disability Resource Center: Acting as a resource for students with physical, learning, sensory or psychological disabilities, the disability resource center helps to provide a support system and empower students to achieve their dreams.
Student Health-Care Center: The Student Health Care Center is an outpatient clinic of licensed, board-certified medical providers working together to ensure students stay safe, informed and healthy on campus.
UF Health: UF Health is the Southeast's most comprehensive academic health center, improving individual and community health through research, innovation, and technology.
UF Alert: It is a compilation of procedures and technology that the University of Florida will use to immediately notify the campus community upon the confirmation of a significant emergency or dangerous situation involving an immediate threat to the health or safety of students or employees occurring on the campus.
Library:

University has several Libraries that have thousands of traditional books and volumes to provide the best knowledge to its students to meet the needs of academic enrichment. Following is the list of Libraries of UF:

George A. Smathers Libraries: 6 George A. Smathers libraries provide primary support to all academic programs.
Library West: Library West holds collections in the humanities and social sciences, including resources supporting the College of Business, Africana Area Studies, East Asian Area Studies, and the Isser and Rae Price Library of Judaica.
Library East (Smathers): The Smathers Library holds the Latin American collection and the Special and Area Studies collections that include the university archives, the P.K. Yonge Library of Florida History, Baldwin Library of Historical Children's Literature, and the Rare Book Collection.
Marston Science Library: The Marston Science Library supports agriculture, engineering, mathematics, and the natural and physical sciences.
Architecture and Fine Arts Library: The Architecture and Fine Arts Library provides collections and services for architecture, fine arts, interior design, building construction, landscape architecture, and urban design.
Education Library: The Education Library holds education, child development, higher education, psychology, counseling and children's literature collections.
UF Digital Collections: The UF Digital Collections comprise a constantly growing collection of digital resources from UF's library collections, as well as partner institutions.
Health Science Center Libraries: The Health Science Center Libraries serve the academic, research and clinical information needs of the six Health Science Colleges of Dentistry, Medicine, Nursing, Pharmacy, Public Health & Health Professions, and Veterinary Medicine.
Lawton Chiles Legal Information Center: The Lawton Chiles Legal Information Center at the Fredric G. Levin College of Law contains legal research materials supporting the study of state, federal and international law.
---
Why UF College of Medicine?
UF College of Medicine has a lot of top-rated undergraduates and graduate programs and the College believes in delivering outstanding service and education to its students to develop them into successful future doctors. We'll discuss a few pros of UF College of Medicine over here that why should anyone choose UF College of over any other Medical College in the U.S?
Firstly, College town, all services are catered to students, period. Things are open late (about 12 is when things start closing down) so they fit their business hours to your schedule. There are a lot of top-rated courses available within every department to fulfill general education requirements for graduation.
Secondly, graduates of UF College of Medicine are highly recruited. If we talk about campus life at UF, then the student body is pretty satisfied over there as a whole and constant upgrades are being done to campus from time-to-time.
After getting into UF College of Medicine:

If getting into a medical college was easy, everybody would've been a doctor today, right? We aren't talking about medical education here at the moment but even getting into a GOOD medical college isn't everyone's cup of tea. Getting into an institute like UF College of Medicine is everyone's dream and to be honest, a very big achievement too! You have worked so hard for this and finally, you got into your favorite college. Now, first things first, don't be overwhelmed. You have passed one of the toughest steps in this journey but now, this is where the real journey begins.

You have to face a lot of challenges in this journey but don't worry, you can overcome all of those by being a little bit more focused. We'll share few tips with you that'll help you survive and succeed in the medical college.

Stay Focused and Set Realistic Goals:

From the first day, you need to be very focused on your goals. Nowadays, when you have tons of distractions in your life, it is difficult to stay focused, especially, while studying. You need to remind yourself every day that how hard you've worked all your life to get here to stay away from all the distractions which are bothering you. Focus is the key here. Once, you know your goals and you're focused on how to achieve those goals, a lot of things will become easy for you automatically.

Now, when we say set REALISTIC goals for yourself, what does it mean? Don't pressurize or overburden yourself by setting up goals that aren't possible for you to achieve because it'll lead to demotivation in the future when they won't be accomplished. Now, it doesn't mean that you shouldn't set any high goals for yourself but in fact, you should start from the ground, build them from scratch and then move forward. Once, you've set some goals for yourself, you'll have a direction to move into which will help you stay focused.

Create a suitable Study Plan:

We talked about how the focus is key while studying. Now, when it comes to staying focus while studying, you need to take care of a few other things too. First of all, develop a habit of PRE-STUDY. Don't leave stuff for the last moment because it is going to harm you in the long-run when your brain wouldn't accept a lot of information at once. Yes, it happens with not only you but with everyone. Most of the students keep on skipping things which they don't understand due to which they can't understand another thing but now, they don't understand anything. Confusing, right?

Take care of yourself:

Amidst all the difficulties of a medical student, the self-care factor can't be ignored. Your health has a huge impact on your studies and productivity. Be a part of several clubs and societies that are present in your school and engage yourself in the activities to give yourself a break from studies. Studies have shown that participating in these extra-curricular activities not only benefits your body but also your brain and results in increased productivity.

Reward yourself if you achieve something, which means incentivizing hard work. This further grows seeds of more hard work and you're inclined to do better each time in hope of reward from yourself. Give yourself a break now and then, rather than pilling up all the notes into your brain until it can't take anymore. It can mean that pick a day or two in a week and spend time with your friends and family and do stuff that makes you feel happy and relax because your idea of self-care is entirely different depending upon your personality.

Dr. Najeeb Lectures:

Earlier, we talked about creating study plans for yourself. Now, there are a lot of reasons a student doesn't understand anything in class. Maybe, the student is unable to focus in class or make notes or unable to attend classes or unable to understand the lecture or whatever the reason might be. This is a very tough situation for a medical student, especially, when every word being said in class is very important. You try to ask for help from your classmates or teachers but you aren't still satisfied because your learning methods are a bit different maybe? But ever imagined a time when a person is a click away for all the solutions to his problems? You can imagine, now that Dr. Najeeb Lectures are at your disposal. These lectures accommodate students with different learning styles, by addressing to a diverse set of students with different capabilities. Thus, these lectures are understood widely by every student all over the world, and they're likely to be your best option.

These topics cover a wide canvas encompassing Neuro-anatomy, Embryology, Histology, Physiology, Biochemistry, Genetics, Pharmacology, Microbiology, Immunology, and Pathology. These lectures cover almost all the topics currently in the medical curriculum of almost all the medical institutes. Furthermore, what makes us unique is our ability to give our students a visual representation that makes it easier for the students to store the knowledge in their brain effortlessly. Furthermore, our application makes you accessible to the lectures irrespective of where and when, with no time constraints. Thus, with so many strong aspects of these lectures, these lectures should be your go-to, making your life easy without any constraints and barriers therein. In the end, we would like to assure you that there are always ups and downs in life. Don't lose hope, keep our tips in mind and Good luck!a