West Virginia School of Osteopathic Medicine – (WVSOM)
---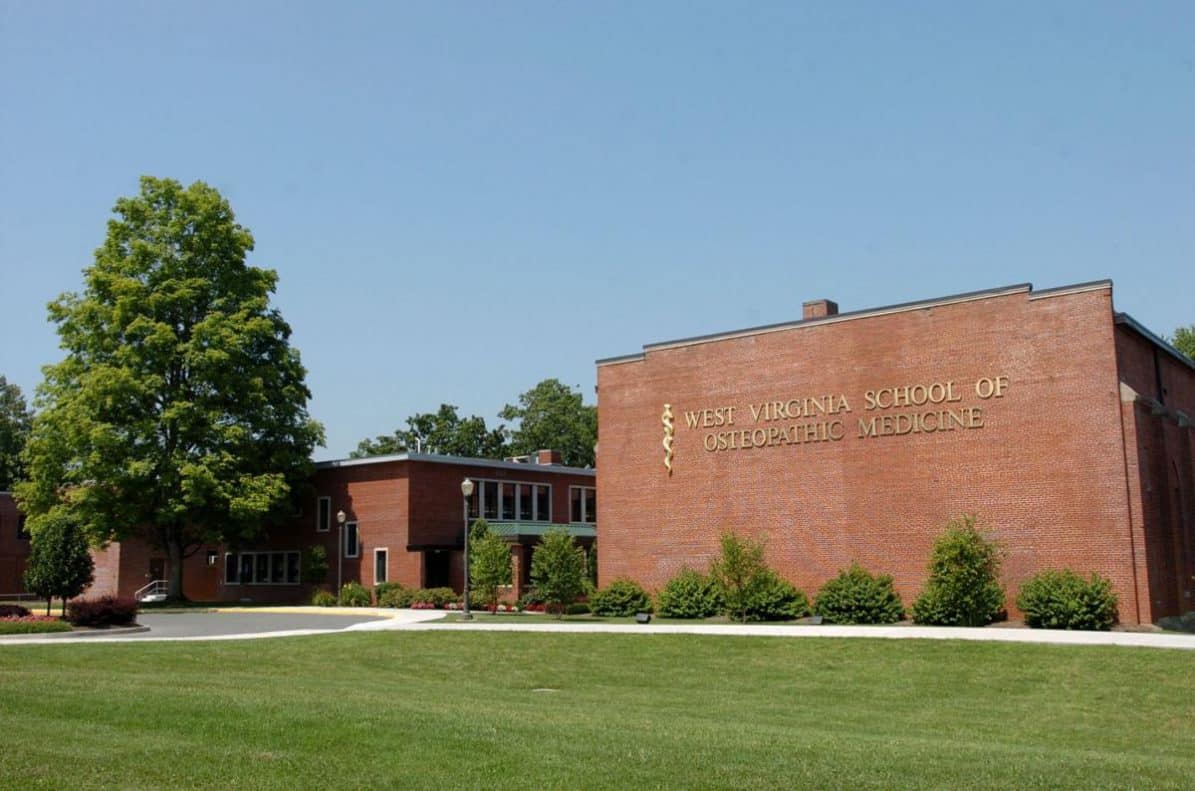 ---
About:
West Virginia School of Osteopathic Medicine, also known as WVSOM is a public medical school established in January 1976. WVSOM is focused on educating residents of West Virginia to practice primary care medicine in the state's rural areas. The first class of WVSOM was of 33 students that graduated in June 1978.
Student Demographics:

The student demographic of WVSOM is given below:

Total students are 839.
In-state students are 233.
Out-of-state students are 606.
Females are around 415.
Males are around 424.
Minority students are 209.
The average age of a student is 26 years.

Fast Facts about WVSOM:

WVSOM has around 267 full-time employees.
WVSOM is accredited by HLC (Higher Learning Commission) which is one of the six national accreditors in the US.
West Virginia School of Osteopathic Medicine is fully accredited by COCA of the AOA.
The graduates of WVSOM practice in around 47 states along with the District of Columbia.
The graduates of West Virginia School of Osteopathic Medicine practice if 46 out of 55 countries of West Virginia.
In West Virginia, there are around 756 licensed osteopathic physicians who are practicing medicine and out of which 657 are the graduates of the WVSOM.

Contact Details:

Address: WVSOM, 400 Lee Street North, Lewisburg WV 24901.
Phone: (800) 356-7836

Mission, Vision, & Philosophy:

Mission:

The mission of the WVSOM is to enhance human health through innovation in medical education, community engagement, research, and patient care. The way WVSOM plans on achieving it is by using a patient-centered, student-centered, and community-centered approach.

Vision:

WVSOM envisions becoming a globally recognized medical school that is an example of its excellence by promoting an innovative culture that promotes diversity, critical thinking, collaboration, and creative leadership.

Philosophy:

The West Virginia School of Osteopathic Medicine philosophy is to encourage an inclusive system-based approach whose focus is patients and enhances human health by training the healthcare leaders and assisting faculty members who:
Focus on excellence & advancement in medical education.
Amalgamate technology and Lean Methodology into academics and practice.
Benefit patients by conducting cutting-edge research.
Collaborate with the community members of WVSOM in non-health and health-related departments.
Establish partnerships that promote collective benefits

Core Values:

The West Virginia School of Osteopathic Medicine has 7 core values that are as follow:

Excellence:

Retaining and strengthening the remarkable high standards of the school.

Innovation:

Establishing an environment that fosters advanced thinking and positive change.

Teamwork:

Promoting an environment where everyone can work together as a team to support one common cause.

Communication:

Making the exchange of communication very smooth among the community members so that they can successfully achieve their goals.

Integrity:

Fostering an environment where everyone behaves ethically in every situation and expects the other person to do the same.

Accountability:

Promoting a culture of transparency where people will be encouraged to take responsibility for their actions.

Diversity:

Embracing a diverse culture in the College.
---
Academics:
Doctor of Osteopathic Medicine:

Admission Requirements:

The applicant must be a citizen or a permanent resident of the US.
The school will offer virtual interviews.
WVSOM will accept online coursework for full pre-requisite coursework. However, the school can't waive the 6-hour lab requirement.
Pass/Fail grades are acceptable, but this is only for spring 2020.
In some cases, the school might interview candidates before receiving MCAT scores. However, the MCAT score is a requirement before the school makes the final offer to join.
A letter from an osteopathic physician.

Prerequisite Coursework:

English (6 hours).
Behavioral Sciences (6 hours).
Biology/Zoology (6 hours).
Chemistry (12 hours) (Must include 3 hours of biochemistry).
Physics (6 hours).
Labs (6 hours). Note that 2 hours must be in biology and the other 4 can be any combination of chemistry, biology, or physics labs.

GPA & MCAT Score Averages:

Screening Criteria Science GPA: 3.2
Average Science GPA: 3.54
Screening Criteria MCAT: 495
Average MCAT: 502

Application Process:

Apply through AACOMAS:

Apply online through the AACOMAS website.
Submit all the official MCAT scores. Please note that MCAT scores should not be more than 3 years old.
Submit all the official transcripts.
Submit a non-refundable AACOMAS fee.
Contact AACOMAS to verify all the documents have been received or not.

Submit two Letters of Recommendation:

A letter from a physician.
A letter from Pre-Med Advisory Committee or Pre-Med Advisor or a science professor who has taught the applicant in the past.
Please note that none of them should be the applicant's relative.
The applicant may submit these letters to AACOMAS, Interfolio, Virtual Evals, or original hard copies by mail.

Complete the Supplemental Application:

The school will invite qualified applicants to complete a supplemental application. Once the candidate has completed and submitted all the materials to AACOMAS including AACOMAS fee, required documents for WVSOM, and application verified with official MCAT scores, the school will send a notification with an ID and PIN along with the access to the Supplemental Application.

Interview:

After reviewing the Supplemental Application, the Admissions Office will invite qualified applicants for an interview.
The invited applicants will have to submit a non-refundable supplemental fee i.e. West Virginia residents: $40 and Out-of-State residents: $80.
The applicant must complete additional forms before coming for their interview. Details regarding these forms will be shared with the candidates at the time interview will be offered.

Tuition & Fees:

| | | |
| --- | --- | --- |
| Years | In-state Tuition | Out-of-state Tuition |
| Year 1 | $22,472 | $53,710 |
| Years 2 – 4 | $21,472 | $52,710 |
---
Programs at West Virginia School of Osteopathic Medicine:
AHEC
ASPIRE
Center for Rural & Community Health
Clinical Evaluation Center (CEC)
Healthy Children's Initiative
International Studies (CIMCC)
Office of Assessment & Educational Development (OAED)
RHI
Pre-Osteopathic Medicine Program (POMP)
---
Facilities at West Virginia School of Osteopathic Medicine:
WVSOM O'Cafe:

The WVSOM's O'Café provides a wide range of breakfast items and lunch menu options from Monday to Friday. Hours of operation are:

7:30 am – 10:30 am – Breakfast
11:00 am – 2:00 pm – Lunch
2:00 pm – 3:00 pm – Grab and Go

Founder's Activity Center:

The Founders' Activity Center encompasses a multi-purpose space for free weights, full-size basketball court, and cardiovascular exercise, a lounge, and women's and men's locker rooms.

West Virginia School of Osteopathic Medicine Campus:

The campus of the West Virginia School of Osteopathic Medicine encloses 67 acres, blending present & past, as historic buildings amalgamated with 21st-century laboratory, classroom, and clinical facilities. The administrative & academic building houses teaching laboratories, faculty and administrative offices, additional classrooms, the James R. Stookey Library, and Osteopathic Clinical Skills Lab.

Peer Tutoring Program:

Peer tutoring program provides additional resources to first-year medical students to assist them understand course material. The second-year students are the ones who serve as tutors for the first-year students to help guide the first-year medical students in transitioning into a good physician and succeeding in medical school. Through this program, the second-year medical students are allowed to work in a formal and structured tutoring environment.
---
Advantages of studying at West Virginia School of Osteopathic Medicine:
Faculty:

WVSOM has excellent academic personnel to administer, design, and educate all phases of WVSOM's curriculum including 9 tenure-track or tenured faculty members (all D.O.s) who are Board Certified in NMM, OMT/Family Medicine, OMM, and Physical Medicine & Rehabilitation; 32 tenure-track, tenured, or non-tenured faculty members in the Department of Clinical Sciences; 23 full-time, tenure-track, tenured, or non-tenured faculty in the Department of Biomedical Science.

Curriculum:

WVSOM has been leading the responsibility to advance community-based services to a more well-known position in the healthcare system of the nation. The West Virginia School of Medicine's top priority is medical students. The programs of WVSOM are pretty rigorous and produce well-educated physicians who are disciplined, dedicated, and committed to being the best doctors by the bedside and by the books.

Statewide Campus:

The Statewide Campus system at the WVSOM includes 7 regions across the state where the medical students of third- and fourth year complete their clinical rotations at West Virginia hospitals. The Statewide Campus system is prepared in a way to advance the curriculum that encourages medical students to become healthcare physicians that practice in West Virginia.

Academic Support:

The West Virginia School of Osteopathic Medicine believes that success demands dedication and hard work, especially when you're studying in the rigorous academic environment of medical school. The first-year medical students who come to West Virginia School of Osteopathic Medicine are not aware of the difficulty of the curriculum and the effort they need to make to keep up with the fast pace of the medical school. As a result of this, students become overconfident and they quickly fall behind everyone. The students need to understand that for most of them, studying in a medical school will require learning a new skill set and improving and retaining the existing ones.
---
How to get successful in a Medical School?
Resistance is an evil thing that encourages us to procrastinate and stops us from doing our work. Different studies show that our brain is not good at multi-tasking because it is designed to work on tasks serially, not parallel. Moreover, there are so many distractions these days that we've have trained our brain to not be able to focus properly. But one needs to overcome these distractions to get successful in a medical school because medical school demands hard work filled with sleepless nights and a lot of hardships.
If getting into a medical school was easy, everyone would have been in a medical school today. Yes, getting into a medical school is difficult but surviving in a medical school requires a lot of hard work. So how you focus on your education when there are so many other equally important tasks that demand your attention? Here are a few tips that'll help you succeed in a medical school if you'll follow them.
Pick a few topics the night before:

At the end of every day, ask yourself a question before going to sleep, "If I could only get a few topics done tomorrow, what would it be?" Now, make sure that you focus on those particular topics that you have in your mind in the morning and complete that task. Make sure to complete that ask and take help from someone if you don't understand anything. In this way, you won't leave everything on the last day. However, you'll have a hard time to keep up with your school if you keep your focus on only a few topics every day, but the idea behind this is to:

Build momentum so that you do something every day instead of doing nothing.
Just get started on something.

Make a Weekly Plan:

If you develop this habit, it will not only help you get organized but also calm your anxious brain. At the start of every week i.e. Monday, take at least 30-40 minutes to map out what your week is going to look like in a diary and then at the end of every day, quickly plan out the tasks you have to do the next day. The main perk of making a weekly plan is that if you'll have everything you need to do on time, it will help you focus on the assignments that'll be in front of you when you're studying because you won't be worrying about the other stuff you have to do because you would have allocated a specific time for that task.

Defend your Rest:

Let's get one thing straight that sleeping for at least 8 hours every night or taking time off for yourself is not considered as laziness. In fact, by giving yourself time to relax and freshen up your mind, you're doing good to yourself. So, if you find yourself scrolling on Facebook and watching a video over video when you're supposed to work on an assignment, don't beat yourself up over that. Push away all the books, take a deep breath, and build the courage to close all the books, call it a day, and TRY AGAIN TOMORROW.

Help everyone and pick your friends wisely:

This step is very important and should be kept in mind from day one. Be very careful and very picky about people. No, it doesn't mean that you don't talk to anyone but chose your friends wisely. Help every person who asks for help from you and avoid getting into any conflict with anyone. If you end up getting into one, try to resolve that as soon as possible, so that you don't get distracted from your studies because of that.

Carefully observe the people around you and make friends very carefully because friends can help you spend the rest of your time in college nicely or they can ruin it. Making more allies than enemies is a good option, help people a lot because they'll help you out too when you'll need it. Try to be a little sharp-minded and keep yourself from getting exploited. Help out others because this way, you can make more allies than enemies and they could end up helping you in your time of need.

Najeeb's Lectures:

Surviving in a medical school and keeping with your schoolwork every day will be very difficult for you at the start. You might think of finding online resources available for you but perhaps you don't have the experience of studying online at all. However, taking online classes instead of face-to-face classes has its advantages and perks as it gives you more flexibility and you can fit your study schedule according to your routine. If you're studying online, you don't have to log in to a class at a specific time and interact with your classmates and teacher at your own pace. Are you searching for an online platform that is a solution to all your problems and provides all the study materials in one place? If yes, Dr. Najeeb Lectures are at your disposal.

These lectures accommodate students with different learning styles, by addressing a diverse set of students with different capabilities. Thus, these lectures are understood widely by every student all over the world, and they're likely to be your best option. These topics cover a wide canvas encompassing Neuroanatomy, Embryology, Histology, Physiology, Biochemistry, Genetics, Pharmacology, Microbiology, Immunology, and Pathology. These lectures cover almost all the topics currently in the medical curriculum of almost all the medical institutes. Thus, with so many strong aspects of these lectures, these lectures should be your go-to, making your life easy without any constraints and barriers therein.

In the end, all we can do is that we can struggle against resistance to complete the most important task of the day. When we do this, we put one more tick on our side to beat resistance. As we build resistance, every day becomes easier and easier! The goal of these tricks was to help you organize your life when you get into a medical school so that you can beat resistance day after day. When you'll start to string together your days of productive work, this is when you'll see the magic happening. Good Luck!

For more information, please visit the official website of the University.